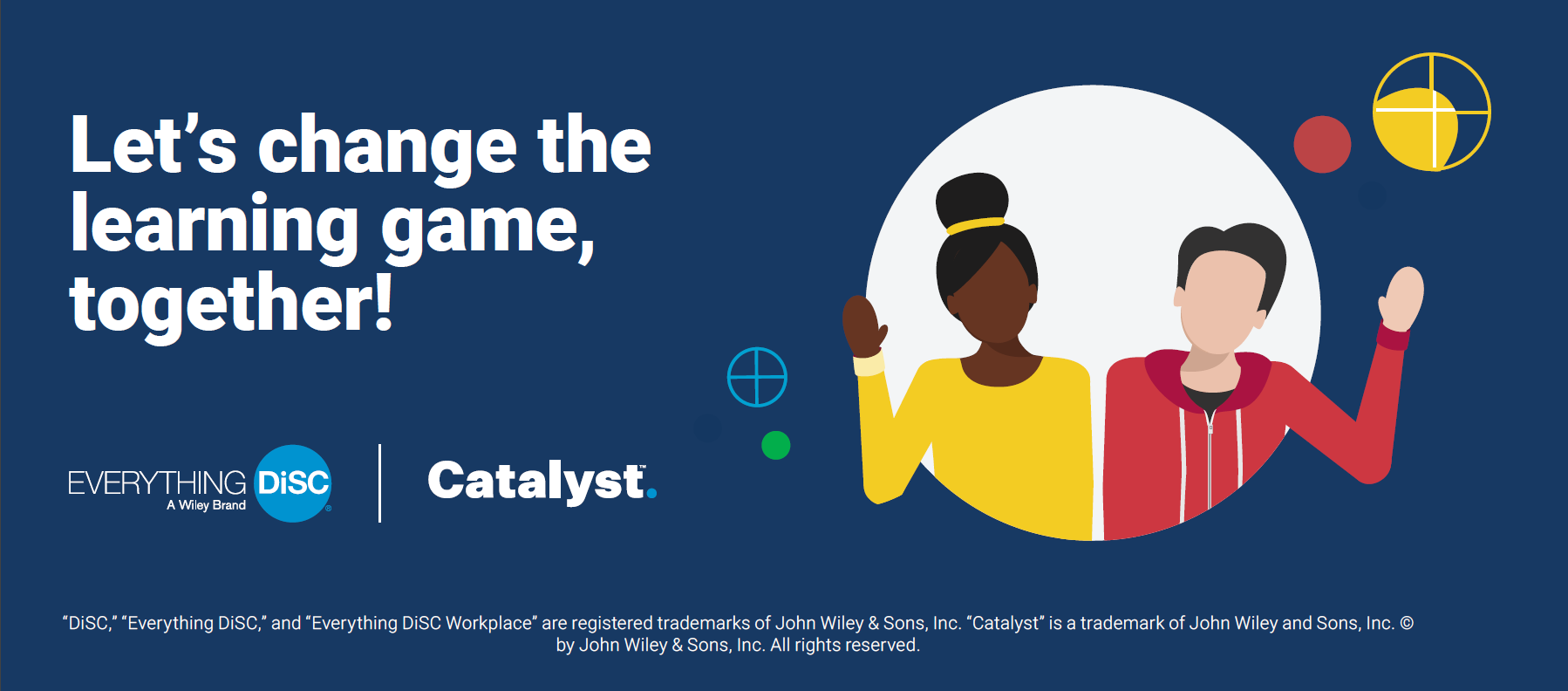 Join our showcase at 5pm on Tuesday 7th June to learn more about the new DiSC personal development platform that keeps people connected and engaged
As the effects of COVID-19 shift from momentary disruption to long-term impact, organisations around the world are faced with a new and complex challenge:
How to enhance your workforce's ability to engage, collaborate, and adapt
Today, organisational culture cannot be an afterthought. To ensure recovery and results, it must be focused – that's where Everything DiSC on Catalyst comes in.
Everything DiSC on Catalyst is a personal development learning experience that equips people with the social and emotional know-how for more effective interactions at work—no matter who or where they are. By combining DiSC with instructor-led training and a powerful learning platform, Everything DiSC on Catalyst helps people:
Better understand themselves
Appreciate and value difference in perspective and approach
Readily and consistently adapt to the unique needs of each person or situation they encounter
Return and learn as the need arises
The result is lasting impact. For learners, Everything DiSC on Catalyst makes the hard work of lasting behaviour change possible and enjoyable.  For organisations, DiSC on Catalyst helps foster an engaged, collaborative, and adaptive culture that drives results.
Our next showcase, "Engage, Connect, Adapt: Equipping Your Workforce to Thrive" covers everything you need to know about this game-changing innovation. In this 60-minute interactive, virtual event, you'll:
Discover the value of strong organisational culture and its connection to success
Explore the Everything DiSC on Catalyst learning experience
View a live demo of the Catalyst platform
Participate in a live Q&A with the showcase presenters
Register here to join us to learn how we can help you make your workforce become more productive. In the meantime, check out this video for an introduction on how Catalyst works:
Help your workforce become stronger with Catalyst™