Come along to our Culture Catalyst™ event where we'll be exploring the changing workforce, how organisations can adapt in order to thrive in this landscape, and you'll get a look at our brand new profile – Agile EQ.
We'll take you through the range of DiSC products, and you'll also experience first-hand the new Personal Development tool based on The Five Behaviors™.
By attending, you'll get to take a complimentary DiSC profile of your choice, and a Five Behaviours Personal Development profile.  Come and join us and learn more about your behavioural style – we'd love to see you there.
Morning Session (10:00 – 12:00):
Everything DiSC – The Culture Catalyst™
The workplace is changing at a fast pace, and the impact on people and organisations is dramatic. Everything DiSC – The Culture Catalyst™ is an exciting live event where we will explore the value of interpersonal skills and how they can empower people to be more productive and solve critical problems currently facing organisations. During this event, we'll highlight the power of Everything DiSC solutions as a catalyst for transforming organisational culture.
In this session you'll:
Learn about the current state of the workplace and the impact on individuals within organisations as well as on organisational culture

Learn how the Everything DiSC application suite teaches more effective workplace interactions through self-discovery as well as appreciation for different DiSC interaction style. 
Afternoon Session (1:00 – 2:30):
The Five Behaviors™ – The New Rules of Teamwork
In order to stay competitive in the marketplace, organisations must equip their employees with tools that enable a culture focused on collaboration and results. Based on The New York Times bestselling book, The Five Dysfunctions of a Team by Patrick Lencioni, The Five Behaviors programme helps organisations break out of siloes and create a culture of teamwork by harnessing the power of Lencioni's model for teaching individuals to become better teammates, and to play nicely!
In this session you'll:
Experience skills that transcend teams

Understand and apply principles found in The Five Behaviors

See the impact The Five Behaviors has had in other organisations
Your Facilitator

Jeanette Westerling
DiSC Style: DC
Jeannette joined the Education Team at Wiley in 2016. Before that, she was an Authorised Everything DiSC and Five Behaviors Partner in Denmark for seven years. As a partner, she became a trusted advisor for managers and HR professionals in large European corporations and facilitated numerous training sessions and team development sessions. Today she transfers knowledge and experience from being a partner to new international partners.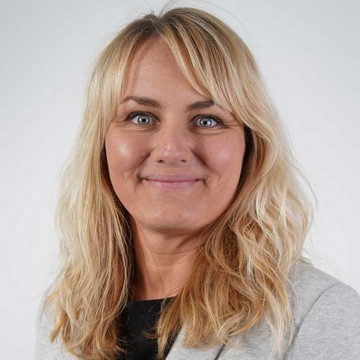 £45 including lunch, a complimentary Everything DiSC profile of your choice, and a Five Behaviors – Personal Development profile.