BRING OUT THE BEST IN EVERY EMPLOYEE
Participants learn how to recognise and understand the styles of the people  they manage. The result is managers who adapt their styles to manage more effectively. This is a powerful tool to use with managers and their direct reports, for individuals in conflict, work partnerships or new hires.  Use during
onboarding,
performance reviews or staff development meetings.
Everything DiSC Management focuses on:
Your DiSC Management Style
Directing and Delegating
Motivation
Developing Others
Working with Your Manager
Participants learn about their strengths and challenges as managers and how to adapt to meet the needs of the people they manage—making them more effective managers.
Click here to download a sample report.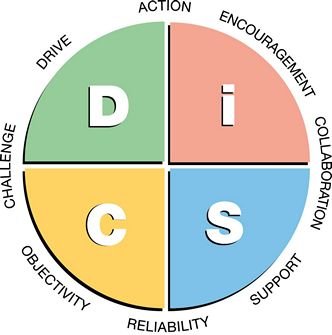 In-depth
: Research-validated online assessment with 26-page, management-specific profile helps managers understand themselves, their employees, and their boss.
Easily Customisable: Online tailoring makes it easy to remove or rearrange pages, customize the title, or print selected sections.
The profile may be used on its own or with the companion facilitation; sold separately.
THE FACILITATION
In-depth: Six one-hour modules; fully-scripted facilitation with engaging activities and management-focused video.
Easily Customisable: Switch out video clips. Modify the PowerPoint, Leader's Guide, and handouts. Add or delete sections to fit any timeframe.
Engaging Video: Contemporary video includes a six-minute introduction to management styles, plus 30 segments featuring real-world, management-specific interactions.