Build a Culture of Teamwork
Are you using this time to focus on team building?
The five behaviors of a cohesive team – trust, conflict, commitment, accountability, and results – remain the same, but in the virtual environment and during times of crisis, they can show up in different ways. That means leaders must show up in different ways, too. With the stress of the pandemic, and the sudden change to remote work, people are looking for their leaders to take action, and each organisation is going to come out of this either stronger for the actions they took, or weaker because of what they didn't do. This presents a window of opportunity for strengthening our teams that we didn't have before. Turn a shaky foundation into a chance to build a more solid one. The Five Behaviors assessment can be completed remotely, and can give a disjointed team a common language and tools to work together more productively.
From Talented Individuals to Extraordinary Teams

The Five Behaviors™ is a unique learning experience that helps people discover what it takes to achieve the ultimate competitive advantage that genuine teamwork delivers. The best-selling author Patrick Lencioni and the power of industry-leading workplace assessment tools come together to create a breakthrough programme proven to deliver business results:
Helping individuals and teams build effective work culture through communication and collaboration
Improving team effectiveness and productivity through the understanding and application of The Five Behaviors:
Trust, Conflict, Commitment, Accountability, and Results..
Downloads: sample report | brochure | case study – Microsoft
Trust

One Another

When team members are genuinely transparent and honest with one another, it forms a safe environment that creates and builds vulnerability-based trust.
Engage in
Conflict

Around Ideas

With trust, team members are able to engage in unfiltered, constructive debate of ideas.
Commit

to Decisions

When team members are able to offer opinions and debate ideas, they feel heard and respected, and will be more likely to commit to decisions.
Hold One Another
Accountable
Once everyone is committed to a clear plan of action, they will be more willing to hold one another accountable.
Focus on Achieving Collective
Results
The ultimate goal is the achievement of results, unlocked through implementing the model's principles of Trust, Conflict, Commitment, and Accountability.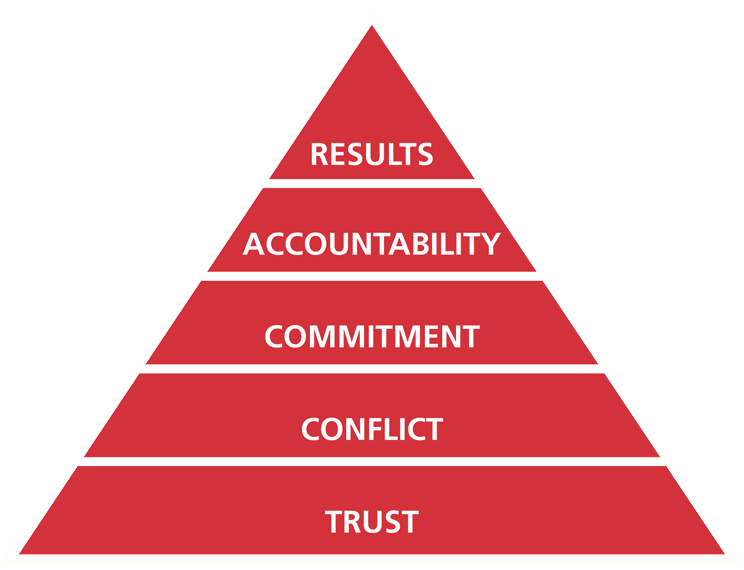 Invest in your team and start your journey to teamwork today.
to see how we can help your teams
Call us, send us an email or fill in the form.