Don't let distance compromise good teamwork.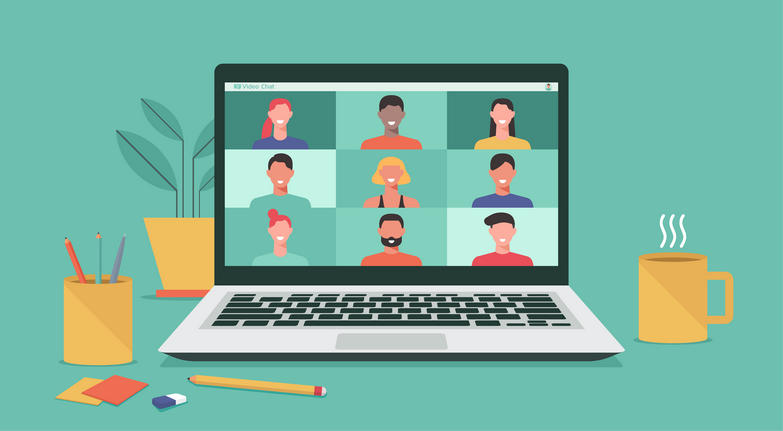 There's an enormous demand for better remote meeting and virtual collaboration approaches right now, with exclusively face-to-face meetings the exception rather than the rule. Through careful planning, thoughtful design, and quality facilitation, it is possible to enable meaningful collaboration that gets work done – even when you can't get everyone in the same room.
DiSC is a simple yet powerful tool for your team to learn more about themselves and their teammates. Give your employees the opportunity to complete a DiSC assessment and we'll facilitate a Zoom call to review everyone's results and discuss interesting trends, findings, and takeaways or, of course, you can facilitate the sessions in-house.
Learning how to measure your behaviour, and being able to create space before reacting, gives you the clarity you need to build meaningful working relationships. DiSC gives learners insights to help discover new ways to connect & appreciate each other, build relationships and navigate challenges. The result is a more engaged and collaborative workforce that can spark meaningful culture improvement in your organisation.
Help your teams learn about themselves and the people they work with.
Create more productive workplaces
We help organisations create and foster a culture of teamwork, building more effective working relationships and setting teams up for success. Our programmes are tried & tested by millions and designed to help you understand yourself and other people.
We can help you transform your workplace by helping your teams work together more effectively, making your sales teams more successful, changing the way conflict is dealt with, creating better managers and developing your leaders.
The Global Impact of Everything DiSC
70+
Countries in 13 Languages
The

Profiles
Specific tools for specific tasks.
A personalised learning experience that teaches participants to read the emotional and interpersonal needs of a situation and respond accordingly.. More…
Rather than focus on conflict resolution, Productive Conflict helps learners curb destructive behaviours so that conflict can become more productive, ultimately improving workplace results and relationships. More…
Can be used with everyone in an organisation, regardless of title or role, to build more effective relationships, and improve the quality of the workplace. More…
Based on best practices, Work of Leaders connects to real-world demands, generating powerful conversations that provide a clear path for action. More…
Teaches managers how to bring out the best in each employee. They learn how to read employee styles and adapt their own styles to manage more effectively. More…
Helps salespeople connect better with their customers by understanding their DiSC sales style, understanding their customers' buying styles, and adapting accordingly. More…
The Assessment
Powered by 40+ years of research, each Everything DiSC personality assessment combines adaptive testing and sophisticated algorithms to deliver precise insights to each participant. These insights lay the groundwork for a personalised experience rich with "aha!" moments that inspire behaviour change.
The Profiles
The personalised content in the profiles deepens self-understanding through the DiSC model. People gain insight into their own preferences and tendencies, learn more about relating to others, and receive actionable strategies to help them improve their interactions and ultimately, their performance.
The "Classroom"
The profile comes to life, even in a virtual classroom, for an experience that engages and educates.
Easy-to-use facilitation tools, including scripted content, contemporary video, and impactful activities, can be customised to meet the specific needs of your people and your organisation.
The Follow-Up Tools
A suite of follow-up resources makes lasting behaviour change possible by keeping Everything DiSC alive in the workplace. Participants can go deeper into their DiSC style, get real-world tips for connecting with colleagues, and gain insight into their team's or department's DiSC culture.
Everything DiSC offers end-to-end learning experiences that have an immediate and lasting impact on the performance of people and the cultures of organisations.
The Everything DiSC Difference
With over 40 years of research-backed assessment expertise, Everything DiSC is the superior DISC assessment platform to unlock the potential of your people and the power of your culture.
Transformational Learning
Only Everything DiSC goes beyond the classroom with Catalyst™, a personalised, mobile-friendly tool that helps participants use DiSC every day to connect better with their colleagues in real time.
Foundation of Research
Everything DiSC provides a trustworthy assessment with strong psychometric properties, and prioritises quality by using scientific adaptive testing, global norming, and real-world testing.
Simple but not Simplistic
Everything DiSC translates assessment results into a personalised, actionable narrative that makes behaviour change tangible.
Expertise of Trusted Advisors
With deep product expertise, we provide impactful experiences to organisations worldwide.
Customisable and Flexible
Each organisation has unique needs. Everything DiSC provides versatile tailoring features that allow you to easily design a customised programme that's right for your organisation and time constraints.
A Wiley Brand
Everything DiSC is part of the Wiley Family, supported by over 200 years of publishing excellence.
Tell us the challenges in your organisation
Call us, send us an email or fill in the form.