The Great Resignation: When the Unflappable Manager…Flaps
February 2022
Here's what we know to be true: The Great Resignation is taking a toll on managers. With the job market full of uncertainty and quality workers hard to find; managers are feeling overwhelmed and stressed. While many organizations have invested in stress reduction resources to address the impact of today's volatile workplace conditions, most of these initiatives are generalized, meaning they can apply to anyone in an organization. And although that's a good thing, our survey of over 4,937 working professionals (Wiley, December 2021) found that managers and leaders often have a unique set of needs that differ from individual contributors. We're going to break down what those unique needs are and what you can you do right now to ensure that your managers don't become another statistic in The Great Resignation.

The Great Resignation, characterized by a mass exodus of workers, continues to leave the ever-changing workplace in chaos. As we enter another year of the pandemic, organizations continue to face unprecedented staffing issues, placing teams in a constant state of flux. In fact, we saw that a whopping 89% of survey respondents experienced some sort of team shift in the past year, such as the loss or addition of a team member, transferring to a new team, or a change in manager. With the majority of these respondents experiencing at least two team shifts, it's no wonder that work-induced stress is running rampant. As workers continue to prioritize flexibility and work/life balance more than ever before, many organizations will continue to face elevated levels of team instability and issues in recruiting and maintaining workers.
The constantly evolving nature of teams places organizations in a precarious position as they attempt to maintain productivity while simultaneously managing the ever-growing issue of team instability. Survey respondents who have experienced a shift in their teams are more likely to rate their stress levels as higher than individuals who haven't. Unsurprisingly, managers reported the highest stress ratings and were thus identified as the most affected group. Managers everywhere are being overworked and understaffed, leading to high levels of burnout and fatigue. While many organizations have invested in stress reduction resources for their workers, most of these initiatives place heavy emphasis on the needs of individual contributors and often overlook the unique needs of managers. As resignation rates continue to climb with many mid-level workers leading the charge, organizations, more than ever, need to better support their managers in order to retain them.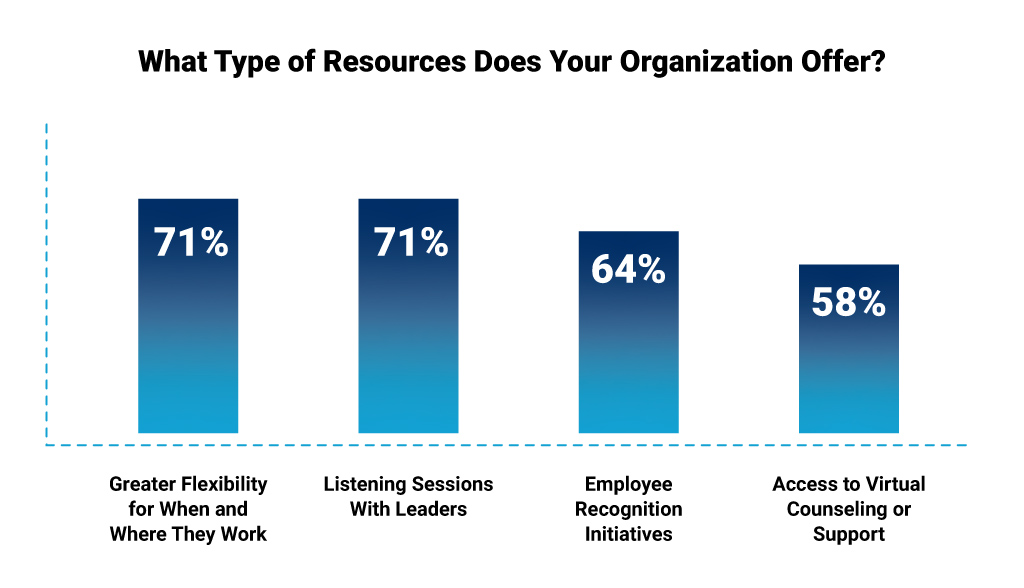 When asked what type of resources their organisation offered, the majority of respondents indicated having access to: greater flexibility in terms of when and where they work (71%), listening sessions with leaders (71%), employee recognition initiatives (64%), and access to virtual counseling or support (58%). While both managers and individual contributors had roughly equal access to these resources, the impact of reducing work-related stress for managers was lower than that for individual contributors. Though the direct cause for this difference remains unclear, we think that the complexity and workload of a managerial role is preventing managers from accessing these resources. For example, while an organisation may offer flexibility for employees in terms of when and where they work, managers may still be expected to incorporate office visits or in-person meetings as a function of their role. Managers may also be expected to take on additional work to either compensate for the loss of workers or help employees manage their own workload needs. As a result, managers may simply not have the time to use stress management resources. Further, it's possible that managers may even actively avoid utilising these resources for fear of being perceived, by both peers and superiors, as ineffective or incapable of managing the pressures of their work.
The unique circumstances that managers face when dealing with team shifts emphasises the need for organisations to develop better strategies to help them. Not sure where to start? We've got you covered:
Offer managers a safe space to talk about work-related stress.


The majority of surveyed managers identified listening sessions to be the second most impactful resource in helping them reduce work-related stress. Additionally, they noted that opportunities to share and reflect on challenges with their peers would be helpful in building a sense of camaraderie, learning new stress management strategies, and become more confident in opening up when they need help.

Recognise your managers.


Managers need to be recognised, too. Respondents ranked employee recognition initiatives as the third most impactful resource in helping them reduce work-related stress. When we cross-tabbed stress and recognition, we found that respondents who had access to employee recognition initiatives had lower overall stress ratings that respondents who did not. This data reiterates what we already know: people do their best work when they feel respected, valued, and appreciated for their contributions.

Train your managers.


Becoming a manager is a learned skill and it's your job to help them learn it. When asked about additional resources they would want, managers requested tools to support some common organisational conflicts, such as poor communication, lack of alignment, and issues with team collaboration. Overall, they want to learn how to bring out the best in their people, and even more, help their employees learn the soft skills necessary to function as a successful team.
It has become critical to place emphasis on supporting managers in reducing work-related stress. When organisations make the effort to provide managers with tailored resources, they strengthen an organisation's capacity to be agile in times of crisis. Resilient and supported managers lead resilient and supported teams.
Tell us the management challenges in your organisation
Call us, send us an email or fill in the form.